Regular price
$240.00 USD
Regular price
Sale price
$240.00 USD
Unit price
per
Sale
Sold out
Discover the Basics of RTT®
Would you like to learn more about RTT® and how it works? Consider how you could have a greater impact on both your life and other people's if you better understood how the mind works and how RTT® reframes negative thinking.
 
This programme offers you the opportunity to gain a deeper understanding of Marisa Peer's approach together with techniques you can practice immediately. 
Discover What RTT® Can Do For You
With an understanding of RTT® you can decide whether this is the perfect career for you
In this course, I will introduce you to the basic principles of RTT
®
 

and the thinking behind some of my most powerful techniques. Techniques I have used for more than 30 years to help thousands of people achieve personal breakthroughs.
For the past three decades, I have worked one-to-one with thousands of clients, developing the techniques that continue to help people achieve the life-changing transformations they've always wanted.

Now, in my brand new e-learning course, I'm sharing the basic techniques and insights you need to study RTT®. This includes working with the subconscious mind which is at the heart of this approach to bring about real personal development.

Whether you're already trained in hypnotherapy, CBT or another therapeutic approach and  curious to elevate your approach with a new skill set

Or you're drawn to RTT® as a vocation but want to ensure it's right for you, why not explore the basics to establish if you want to move on to the complete course?

This is the chance to learn how RTT® can be used to help overcome a wide range of issues.
Your RTT® Toolkit
This 15-hour course provides a solid overview of principles and the commitment it takes to follow a career in RTT
®
You don't need to attend lectures, write essays or take tests. You won't be reading from exhaustive academic textbooks or learning theoretical ideas.
As we learn about RTT®—from what it is and where it can help, through working with the subconscious mind and creating a transformation—we'll explain the approach that is needed to work in a positive and ethical way with clients.
Get an understanding of RTT®, explore what it's all about, and learn how it makes such a difference to people's live. 
Gain A Real Insight Into RTT®
Discover Marisa's unique approach and how it helps people push through barriers and let go of limiting beliefs. 
All online.

All at your own pace.

All for just $240.

With three decades of knowledge, experience and insights, I have devised a unique introduction to my approach available to complete in just 15 hours, with my Foundation Certificate in RTT®. 

It's taken me many years of hard work to refine my techniques, and I want as many people as possible to understand their potential and benefit from them.

RTT® is one of the single most effective ways of getting to the root of an issue and provides the turning point to achieve that breakthrough people long for.

By sharing this new course - A Foundation Certificate in RTT® —I am hoping to give you an insight into what is involved before making a career choice.
What We'll Cover
Module ONE: Introduction to RTT®
In this module, you will learn about Marisa Peer and RTT®, the history of the method and what RTT® can be used for when working with clients.

After completing this module, you will understand The 3 Foundational Rules of the Mind, The 3 Things Wrong With You and The 3 Ways People Change.
Introduction to Marisa Peer, and RTT®'s history and influences.
The power of RTT®.
Common issues RTT® can be used for.
Module TWO: A Formula for Success
In this module, you will learn the difference between traditional hypnotherapy and RTT®, and why RTT® is a formula for success. You will also have the opportunity to experience a group Command Cell Therapy session led by Marisa.

After completing this module, you will be able to define each of the RTT® Tools, understand how the mind works, and be able to spot trigger words and 'ear prick up moments'.
The difference between traditional hypnotherapy and RTT®.
The RTT® Tools.
A formula for success.
Trigger words and ear prick-up moments. 
Module
 THREE

: Communication Skills for Aspiring RTT

® Therapists
In this module, you will be learning the essential communication skills of an RTT® Therapist and how to be a great 'detective'.

After completing this module, you will have a broader understanding of questioning styles, including the difference between closed questions and open questions, and how to use probing, clarifying, encouraging and linking questions.
Essential communication skills for RTT® Therapists 
Module
 FOUR

: Working with the Subconscious Mind
In this module, you will learn about the differences between the conscious mind and the subconscious mind, and why the subconscious mind is always running the show. 

After completing this module, you will understand the role of the subconscious mind in RTT® and how it can be reprogrammed.
The conscious vs. subconscious mind.
Working with the subconscious mind.
Reprogramming the subconscious mind.
Module
 FIVE

: Rules of the Mind
In this module, you will be learning about the Rules of the Mind for RTT®.
After completing this module, you will understand 13 Rules of the Mind and have first-hand experience of the Lemon Test, the Elastic Arm suggestibility test, the Postural Sway and Muscle Testing.
The Rules of the Mind for RTT®.
Suggestibility tests including the Lemon Test, Elastic Arm and Postural Sway.
Muscle testing.
Module
 SIX

: Creating a Transformation
In this module, you will be learning about the RTT® Tool, the Transformation. You will be exploring what the Transformation is, and how to create one for yourself. 

After completing this module, you will have learned about the difference between direct and indirect suggestions, how to flip negatives, and Life Without The Problem.

You will also have access to a full RTT® session demonstration with Marisa.
The Transformation and Visualizing Life Without the Problem.
Creating a transformational recording. 
Experience a full RTT® session.
Module
 SEVEN

: Ethical Practice
In this module, you will be introduced to the principle, 'Do no harm', and the importance of upholding an ethical practice as an RTT® Therapist.
The principle of "Do No Harm".
Working within your scope of practice.
Data protection and confidentiality.
Share
View full details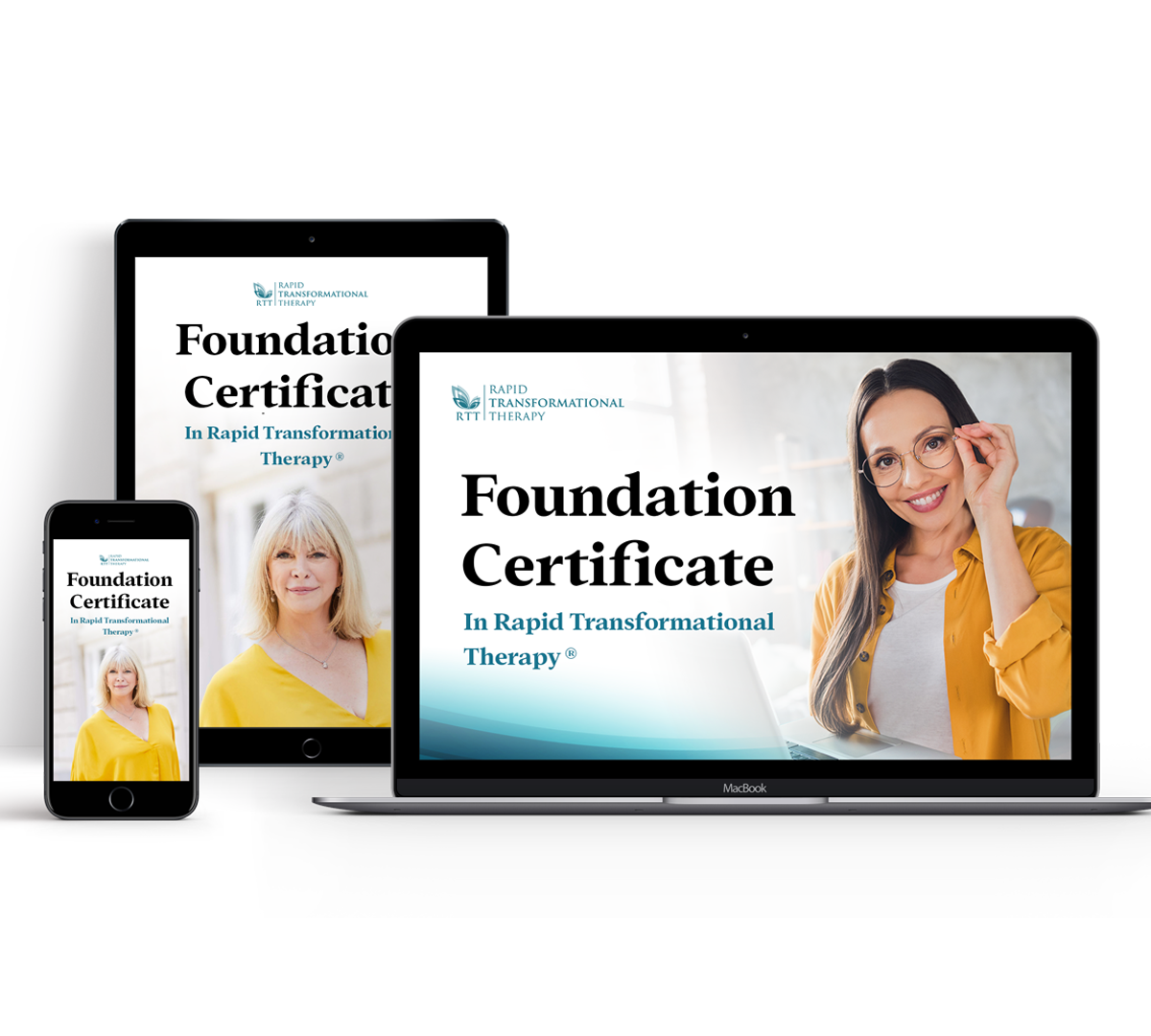 Hypnosis helps overcome negative blocks and patterns.
Access Self-Hypnosis Audios Whenever You Need Them.

Self-hypnosis is very easy to learn and practice.
Faster, More Effective, Long-Term Healing.

what our customers are saying
This is a brilliant audio. I have a speech impediment and the audio greatly improved the way I speak. I had a significant interview and it was important to me to be as fluent as possible. I listened to the audio every night for a month before sleeping and I let it on while sleeping too (it is on a loop). Amazingly, though I did mention the stammer beforehand, I could speak nearly without stammering at my interview.
- Francine
I have a large home (5 bedroom, 6 bathroom) and small kids. Once a year I do a spring cleaning and it usually takes 2 months. With this hypnosis is did it all - AND MORE THOROUGHLY in 2 weeks! It also made me get organized about meal planning which was not my intention for listening to it, but it did make me more organized in general. LOVE MARISA.
- A.S.
This module really helped me feel at peace. I did it every day for 4 weeks, it did change the way I felt about everything else and how I reacted to people's actions towards me. And I use this module every time i feel like i might be going back to the same path that was before and instant put me at peace again. I highly recommend it if you are looking to let go of hurt of the past.
- M.j.

This is the gold standard of hypnosis- it has changed my life as doing more things now! The best way to look at it is you have a world class hypnotherapy on tap 24/7- how much would that cost you?The audio is the best I have heard and is fanastic.
- P.G.
i played this twice a day - once first thing in the morning with my head phones in and in the back ground at night while going to sleep.took a few days to work. i have been smoke free - for 2 months. don't even think about smoking. so happy with the results. would highly recommend this or any other of Marissa Peers RTT therapy's.
- Olivia
My daughter was being teased by an older child and it was giving her anxiety at bedtimr. We could not get the child to stop despite talking to his parents.We decided it was an opportunity to learn resilience. She has been listening to this for about 2 weeks now and she no longer complains about the "bully." She has no issues falling asleep at night and comes home w a smile on her face.Thank you Marisa!
- A.S.
Unlimited Access to Library of Self-Hypnosis Audios for only $19 per month
Unlock unrestricted access to Marisa Peer's entire library of powerful self-hypnosis audios, plus guided meditations and a bonus course! Only $19 per month. Cancel anytime.
you may also Benefit From