Regular price
$149.00 USD
Regular price
Sale price
$149.00 USD
Unit price
per
Sale
Sold out
Skyrocket Your Self-Development With Marisa's All-Access Pass 
Unlock unrestricted access to the powerful hypnosis audios and meditations from globally-acclaimed therapist Marisa Peer.
Do You Ever Feel Like Your Goals Are Always Just Out Of Reach?
Does any of this sound familiar?
You start with great focus and determination to make a positive change in your life, yet you find yourself losing momentum a few weeks or months down the line.
Your old habits start to creep back in.
You're right back where you started.
Perhaps you even feel like a failure.
This cycle of dedicated focus to lost willpower is all too common.
However, there is a way to keep that commitment and momentum going.
One that will help you achieve your goals and then some.
Even better, it will feel entirely natural and effortless...
Discover The Life-Changing Power of Self-Hypnosis
There is an easier way to reach your goals, whether it's phenomenal success in your career or a lasting, loving relationship.
You can achieve the dreams you always thought were "impossible" with the power of self-hypnosis.

What Is Self-Hypnosis?
Self-hypnosis is a super-effective tool for manifesting positive and permanent change in your life.
To gain freedom from your issues, whatever they may be, you need to uncover the root cause—the emotions that drive your behavior.
Self-hypnosis does just that. It works by helping to rewire the limiting beliefs that lie behind even the most deep-rooted problems, including fears and phobias, anxiety and depression, even infertility and addiction.
What You Get With Your Subscription

🌟 Full Access To Marisa Peer's Extensive Library Of 40 (And Growing) Self-Hypnosis Audios

Download your audios direct to your private library and start listening immediately. Choose from a wealth of topics, including overcoming depression and anxiety, stopping smoking or drinking, wealth wiring, weight control, and attracting a loving relationship.
The full list of hypnosis audios you unlock includes: 
Wealth Wiring

Boost Your Confidence & Esteem

Lovability

Hypnotic Weight Control

Improve Memory and Concentration

Free Yourself From Depression

Attract Your Perfect Relationship

Perfect Deep Unbroken Sleep

Overcome Anxiety

Overcome Social Anxiety

Quit Smoking

Having A Powerful Orgasm

Get Younger Skin

Selective and Moderate Drinking

Overcome Your Fear Of Public Speaking

Hypnotic Gastric Banding

Conception

Stop Drinking

Pass Your Exams With Confidence and Skill

Stick To Your Goals

Perfect Relaxation

Stop Procrastination

IVF Conception

Interview Skills and Preparation

Freedom From Drugs

Perfect Pregnancy

Powerful Immune System

Overcome Porn Addiction

Erectile Dysfunction Correction

Pain-Free Hypnotic Birth

Anger Management 

Improving Sperm

Overcome Fear Of Flying

Overcome Your Fear Of Needles

Get Rid of Negative Looping Thoughts

Pass Your Driving Test With Ease

Overcome Jealousy

Overcome Your Fear Of Heights

Overcome Grief

Overcome Social Media Addiction

Overcome Gambling Addiction

Overcome Your Fear of Social Gatherings

Overcome Your Fear of Confined Spaces
🌟 Full Access To Marisa Peer's Powerful Guided Meditations
Perfect for getting yourself into a positive mindset each day, listen to any of Marisa's fast-growing selection of mind-boosting meditations to improve your overall wellbeing.

You will unlock the following guided meditations
Boost Your Immune System
Promote Physical Healing
Let Go Of Negative Thoughts
Calming Meditation For Abundance, Wealth and Health

Deep Sleep Meditation
Restore Your Calm Meditation
Let Go Of Fear And Anxiety Meditation
Super Productivity
Fight Anxiety
Guided Meditation For Success, Confidence and Self-Belief
Lift Yourself From Depression Guided Meditation
🌟 Access To A Bonus 'Installing The Cheerleader' Course To Boost Your Confidence & Self-Esteem
Every successful person Marisa has worked with has had this in common: their mind cheered them on so effectively and so consistently that it blocked rejection. Negative, harsh, critical words simply did not permeate them.
You were born with a mind that cheered for you, that motivated you and believed in you. Today, you can get that back. Reactivate your inner cheerleader and watch your life improve in so many ways. Your mind is your cheerleader and your ally.
Marisa Peer's "Installing The Cheerleader" video and audio course is a comprehensive three-module course totaling over 90-minutes of teaching and hypnosis from the UK's #Therapist, Marisa Peer. You will also receive a specially-recorded "Installing The Cheerleader" MP3 hypnosis download, allowing you to continue your learnings and carry your inner cheerleader around with you. 
FAQs

How will I get access?
Access will be sent to you via email as soon as you join. You can then download and store your chosen audios in your private library.
Cancelling your subscription
Should you wish to cancel your subscription please contact support@marisapeer.com at anytime.
How do I get the most out of the audios?
Listen to each audio every day for at least 21 days to get the maximum benefits, but you can listen as often as you need to. We recommend listening at night to relax your mind and body before sleep, but you can listen at any time that suits you (do not listen while driving or operating heavy machinery).


Is hypnosis safe?
Yes, hypnosis is perfectly safe. There are many misconceptions about hypnosis as a form of mind control; however, that simply isn't true. You remain aware at all times, and your mind is only receptive to the suggestions it finds beneficial. You cannot be controlled or made to do anything against your will as a result of hypnosis.
English isn't my first language. Will these hypnosis courses still work for me?
If you have a good understanding of English, it shouldn't matter that it isn't your first language. When you're in hypnosis, your conscious mind will translate what Marisa says into your first language. You will find the same beneficial effect occurs whichever language you find yourself connecting with during the hypnosis. You don't need to worry, and you will likely drift into better hypnosis as a result now that you are aware of this, whichever language you're hearing.
Share
View full details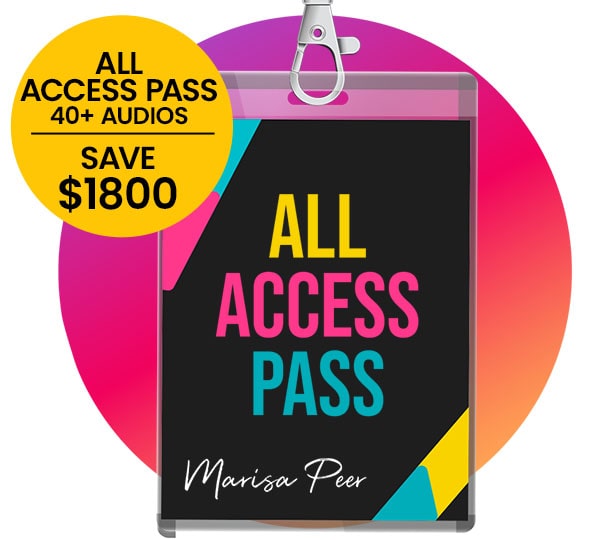 Hypnosis helps overcome negative blocks and patterns.
Access Self-Hypnosis Audios Whenever You Need Them.

Self-hypnosis is very easy to learn and practice.
Faster, More Effective, Long-Term Healing.

what our customers are saying
This is a brilliant audio. I have a speech impediment and the audio greatly improved the way I speak. I had a significant interview and it was important to me to be as fluent as possible. I listened to the audio every night for a month before sleeping and I let it on while sleeping too (it is on a loop). Amazingly, though I did mention the stammer beforehand, I could speak nearly without stammering at my interview.
- Francine
I have a large home (5 bedroom, 6 bathroom) and small kids. Once a year I do a spring cleaning and it usually takes 2 months. With this hypnosis is did it all - AND MORE THOROUGHLY in 2 weeks! It also made me get organized about meal planning which was not my intention for listening to it, but it did make me more organized in general. LOVE MARISA.
- A.S.
This module really helped me feel at peace. I did it every day for 4 weeks, it did change the way I felt about everything else and how I reacted to people's actions towards me. And I use this module every time i feel like i might be going back to the same path that was before and instant put me at peace again. I highly recommend it if you are looking to let go of hurt of the past.
- M.j.

This is the gold standard of hypnosis- it has changed my life as doing more things now! The best way to look at it is you have a world class hypnotherapy on tap 24/7- how much would that cost you?The audio is the best I have heard and is fanastic.
- P.G.
i played this twice a day - once first thing in the morning with my head phones in and in the back ground at night while going to sleep.took a few days to work. i have been smoke free - for 2 months. don't even think about smoking. so happy with the results. would highly recommend this or any other of Marissa Peers RTT therapy's.
- Olivia
My daughter was being teased by an older child and it was giving her anxiety at bedtimr. We could not get the child to stop despite talking to his parents.We decided it was an opportunity to learn resilience. She has been listening to this for about 2 weeks now and she no longer complains about the "bully." She has no issues falling asleep at night and comes home w a smile on her face.Thank you Marisa!
- A.S.
Unlimited Access to Library of Self-Hypnosis Audios for only $19 per month
Unlock unrestricted access to Marisa Peer's entire library of powerful self-hypnosis audios, plus guided meditations and a bonus course! Only $19 per month. Cancel anytime.
you may also Benefit From