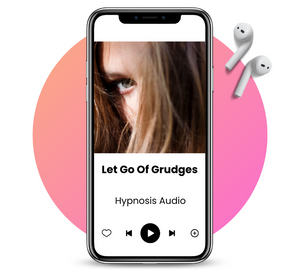 Let Go of Grudges
Holding onto grudges can not only be tiresome, taking up all of your energy, but the buried anger can also be damaging to your health as resentment can build up and create stress hormones in our bodies.  
Many of us hold moral principles and boundaries that lie within our core values, and when we perceive others to have unfairly broken these, it can be difficult to overcome. The trouble is that holding onto these hard feelings only ends up eating into our lives, and the only people we harm and impact is ourselves and our loved ones. 
Imagine for a moment being completely at peace in your life, free of any feelings of bitterness, injustice, and resentment, free to live a happy and fulfilled life… 
Marisa Peer's Let Go of Grudges allows you to release these emotional blocks taking over your life and gives you back the freedom you deserve. 
Let Go of Grudges works by reprogramming your mind to: 
✔️ Activate your subconscious to override angry thoughts and feelings, so your mind and body respond positively.
✔️ Feel lighter, happier, and freer, as resentment simply becomes a thing of the past.
✔️ Let go of past hurt and pain so you can move on with your life.
✔️ Eliminate the desire to talk about your grudges.
✔️ Find peace in finding forgiveness in the situation and circumstance.  
✔️ Turn challenges into opportunities and blessings. 
✔️ Allow you to finally move on. 
✔️ Instill a core belief inside you that grudges do not have to control you and that you can choose to let go of anything that is holding you down.  
✔️ Feel empowered and confident to make new choices that support your wellbeing.
✔️ Ingrain a new, positive mindset that only focuses on the present and is excited about the future.
✔️ Celebrate your success without grudges and be proud of yourself for all that you've achieved. 
Today, you get to regain control, let go of the past, and rewire your mind to focus only on positivity. 
We often aren't conscious of the language, thoughts, and feelings around grudges, let alone the associations we have created at a subconscious level.
Marisa's powerful hypnosis goes far beyond an affirmative mindset—it works by rewiring your mind at a deep, subconscious level and gets to the root cause that our conscious minds simply cannot reach. 
Holding grudges is something that we can learn to conquer, yet most of us are unaware that we can control this. Every thought we have creates an emotional response and a physical reaction in our bodies. As children, our minds form an imprint about things we have experienced or learned, and we continue this imprint as adults without understanding its impact on us.
As you listen to your audio, Marisa's voice will guide you through a series of transformations, helping you to create powerful new pathways in your mind and helping your body to create a different experience from that of concern and apprehension.
People start to experience results within the first 21 days, so make sure you listen to the audio every day to have the maximum effect.
Being able to overcome anything with self-hypnosis is truly phenomenal. You can change your reality.  
Why Hypnosis Gets Phenomenal Results
Have you ever tried to change a habit with your strongest willpower in the world, only to discover a week later, you've fallen back into the same old pattern of behavior?
Hypnosis works by getting to the root-cause—by digging deeper, to specifically rewire your subconscious mind and change your habits for good.
Most of us aren't aware of what drives our habits and behaviors because of subconscious blocks, so we self-sabotage. Therefore, we continue to run over and over the same patterns and get stuck in a rut.
To truly understand our minds, we need to change it at its core. Unless we change at the root, no matter what we try to change at the surface level, we always revert to old, familiar patterns of behavior, which, of course, can feel very frustrating.
Imagine your mind is like an elastic band. It continues to bounce back to what it only knows. Hypnosis stretches and breaks that "elastic band" entirely. In other words: when you use your hypnosis audio, your mind stretches, and breaks the old behavior, and makes a new pathway—a brand new habit.
Hypnosis also gets extraordinary results because it works on our emotional state. Marisa explains that we have a conscious, "logical mind" and a subconscious, "feeling mind." Our subconscious emotions and feelings will always defeat the logical part of our mind. This is why your hypnosis audio will help reprogram your mind to tackle any fears and blocks that your logical (conscious) mind simply can't reach.
What Is Self-Hypnosis?
Self-hypnosis is where you induce a deep sense of relaxation in your mind and body. This allows your mind to be open and receptive to the positive suggestions you wish to give it.
Not to be confused with giving yourself positive suggestions through a self-induced hypnotic state. Marisa Peer's self-hypnosis audios are carefully crafted and created over a 30 year period of results from working with an array of celebrities, royalty, top athletes & CEOs. Her recordings have been specially designed to help you overcome issues and imprint powerful changes in your life—and you can listen to them in your own comfort.
Our minds are so extraordinary and complex, self-hypnosis reaches the levels that our conscious mind can simply cannot access. Therefore, bringing about a change at a core level.
What Happens When You Use Your Hypnosis Audio
As you relax during your hypnosis audio, you access the subconscious part of your mind. The critical, conscious part of your mind then shuts down to let in positive suggestions, to bring in new ideas that you never thought were possible.
Many people think that hypnosis sends you to sleep, in fact, it does quite the opposite, and wakes up and stirs your mind. Your hypnosis audio then fires up, wires, and codes in new, powerful, and positive beliefs, to change habits and behaviors for good. Your mind is also more accepting and receptive to change when under hypnosis, meaning you're more likely to see better results and a more significant transformation.
Your mind is so powerful, and you have more control than you think. Therefore, what you focus on throughout listening to your audio, expands. Your hypnosis creates a clear picture of precisely what you want, so you naturally move towards it.
Marisa also uses a special, unique technique of combining powerful, dynamic, and compelling language to create a stronger imprint. Just like a computer, when you use your hypnotic audio, you are installing new software to create the best version of you.
How To Make Your Hypnosis Audio Work For You
You may have landed on this page because you are simply fed up with trying everything, and nothing else has worked, and you're now very ready for a change.
The great news with this frustration and desire to change, is that you have to want the change to happen for your hypnosis to be effective and transformational. Therefore, the more you want it, the more it will happen as you expand as you move towards it.
People can start to experience results within the first 21 days, so make sure you listen to the audio every day for it to have the maximum effect.
Our minds learn by repetition, so when you repeatedly listen to your download over 21 days, you will notice much better results. For example, if we want a healthy, fit body, we don't expect to get results immediately after one day's training at the gym. Your mind is the same—you reprogram it as if your mind is at the gym, and install your new behavior into your subconscious properly.
During your hypnosis audio, your mind also becomes excited and receptive to change, which means your mind is more able to easily accept new habits.
Is Self-Hypnosis Safe?
Self-Hypnosis is entirely natural and safe. If you've ever found yourself driving your car on autopilot or in a trance-like state when you've been watching TV, you've gone into a state of hypnosis.
Marisa's self-hypnosis audios, programs, courses, and meditations have been designed and recorded by her personally to install new, powerful, positive beliefs on the subject matter you have chosen.
You will always be in control when you use your audio, and you will simply relax into a state of heightened control. The more you practice using your hypnosis audio, the more you will be able to not only eradicate fears and blocks, but also adopt, acquire and own, the exact habits and behaviors that you want in your life.
After your download, we recommend that you watch the video and read the tips in the 'How To Make The Most From Your Course' module.
How To Receive Your Hypnosis Audio
After your purchase, keep an eye on your inbox and check other email folders, such as junk or spam. Ensure you add Marisa Peer to your contact list to make sure you don't miss important information about your product. Your audio access details will be sent within five minutes, but it can take up to 20 minutes in rare cases. If you have already purchased a Marisa Peer course, then your hypnosis audio will automatically be added to your member's area.
Guaranteed Satisfaction
Marisa is sure that you will love your self-hypnosis audio. However, if you are not satisfied, we are not satisfied, so there is a 14-day money-back guarantee. All you would have to do is contact our support team to arrange a refund: support@marisapeer.com
What About The Special Offers
Remember, you can also create your own hypnosis bundle and grab 3 for 2 on your audio courses. Build your bundle here. Make sure that you also check out the special offers that are available on the product shop homepage to not miss out any great deals with your audio.
Suggest Another Self-Hypnosis Topic
Marisa is always open to suggestions for new self-hypnosis courses that would benefit and help more people. Please ensure that you have browsed all the products in the shop first, and if there is a topic that is not there, and you'd love to make a new suggestion for consideration, please email: support@marisapeer.com
How To Gift This Audio Course
Do you know someone who would benefit from this self-hypnosis audio? You can now give your family and friends the gift of freedom from fear, doubt, and stress and help set themselves up for success. Gift this here. You can also share this with them, here.
Very helpful - highly recomend!
This module really helped me feel at peace. I did it every day for 4 weeks, it did change the way I felt about everything else and how I reacted to people's actions towards me. And I use this module every time i feel like i might be going back to the same path that was before and instant put me at peace again. I highly recommend it if you are looking to let go of hurt of the past.