Regular price
Sale price
$49.00 USD
Unit price
per
Sale
Sold out
When you feel lovable inside, the shift is transformative, and the world falls in love with you. Marisa Peer's comprehensive and best-selling 'Lovability' audio course reprograms your mind, so you can become the lovable person you deserve to be.
Not feeling lovable enough means that you don't have the confidence to believe you deserve love. Feeling unlovable can often repel people, as you give off a type of "unlovable energy." 
Do you ever think that love is for everyone else but not you? 
Have you ever been in an unhealthy or toxic relationship that you know deep down is not right?
Do you find that you sometimes attract love but don't keep love?
The feeling of being unlovable can mean that you struggle to attract the right kind of love, which means that you struggle to maintain loving relationships. It can also mean that you stay in the "wrong relationships" because you are scared that you won't find anyone else. If you want to attract love in your life, you need to change the belief that you are lovable.
Using this 'Lovability' hypnosis audio course helps you instill a belief inside you that you are lovable. It works by reprogramming your mind for love to attract healthy, loving, and long-lasting relationships. When you reinstall these beliefs, they will be so strong that other people will sense them too. You will be able to receive and give love more easily and maintain fulfilling relationships. 
Many people go through life not realizing that real love comes from within. When we discover that we need to love ourselves first, then love comes to us. 
When you fall in love with yourself, the world falls in love with you. 
The trouble is, feeling unlovable is a block we have on a subconscious level. Only through hypnosis can you tap into your core subconscious to reprogram your beliefs around lovability.    
Being lovable is the most important gift you can give to yourself, and Marisa truly believes you can do anything with radical self-love. It is no surprise that people who have downloaded 'Lovability' have attracted amazing love and synchronicity in their lives.  
Your 'Lovability audio course also reprograms and rewires your mind, so you believe that you don't have to take anything away or add anything to your life to attract love. 
Imagine this audio course as your very own "lovable barometer"—every time you use it, you can turn up the dial on how lovable you truly are. People start to experience results within the first 21 days, so make sure you listen to the audio every day to have the maximum effect.
The result is that when you believe you are lovable, you can do and achieve more in every area of your life. 
Lovability
As you relax and repeatedly listen to your download, you will notice that you:
Discover all that is lovable about you.

Feel worthy and deserving of real love.

Feel a shift in your energy, and have a greater sense of self-belief that you

 are worthy of receiving love.
Being able to heal your mind and body with your self-hypnosis is truly phenomenal. You get to change your reality.  
Unlock instant access to Lovability today.
FAQs

Who is this hypnosis audio for? 

This hypnosis audio is perfect for you if you are looking to increase your lovability. If you are looking to attract and maintain more love in your life, this hypnosis audio can help you. You were born with a belief that you are lovable and over time this is lost. This hypnosis audio helps you get that belief back.

How Long Is This Hypnosis?

25 minutes

How Long Should I Listen To This Course For?

At least 21 days

How Will I Get Access To The Course?

Course access details are sent to your email address immediately after purchase. Please allow up to ten minutes for them to arrive.


Listen to an audio sample of the course below:

Listen to an audio sample of the course with voice only:
Share
View full details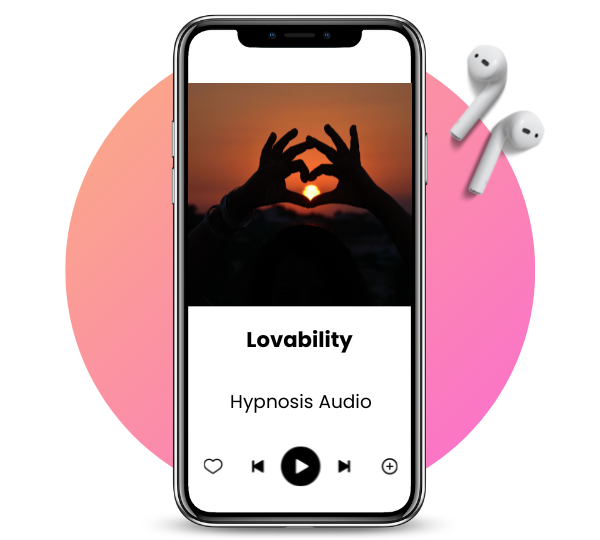 Hypnosis helps overcome negative blocks and patterns.
Access Self-Hypnosis Audios Whenever You Need Them.

Self-hypnosis is very easy to learn and practice.
Faster, More Effective, Long-Term Healing.

what our customers are saying
This is a brilliant audio. I have a speech impediment and the audio greatly improved the way I speak. I had a significant interview and it was important to me to be as fluent as possible. I listened to the audio every night for a month before sleeping and I let it on while sleeping too (it is on a loop). Amazingly, though I did mention the stammer beforehand, I could speak nearly without stammering at my interview.
- Francine
I have a large home (5 bedroom, 6 bathroom) and small kids. Once a year I do a spring cleaning and it usually takes 2 months. With this hypnosis is did it all - AND MORE THOROUGHLY in 2 weeks! It also made me get organized about meal planning which was not my intention for listening to it, but it did make me more organized in general. LOVE MARISA.
- A.S.
This module really helped me feel at peace. I did it every day for 4 weeks, it did change the way I felt about everything else and how I reacted to people's actions towards me. And I use this module every time i feel like i might be going back to the same path that was before and instant put me at peace again. I highly recommend it if you are looking to let go of hurt of the past.
- M.j.

This is the gold standard of hypnosis- it has changed my life as doing more things now! The best way to look at it is you have a world class hypnotherapy on tap 24/7- how much would that cost you?The audio is the best I have heard and is fanastic.
- P.G.
i played this twice a day - once first thing in the morning with my head phones in and in the back ground at night while going to sleep.took a few days to work. i have been smoke free - for 2 months. don't even think about smoking. so happy with the results. would highly recommend this or any other of Marissa Peers RTT therapy's.
- Olivia
My daughter was being teased by an older child and it was giving her anxiety at bedtimr. We could not get the child to stop despite talking to his parents.We decided it was an opportunity to learn resilience. She has been listening to this for about 2 weeks now and she no longer complains about the "bully." She has no issues falling asleep at night and comes home w a smile on her face.Thank you Marisa!
- A.S.
Unlimited Access to Library of Self-Hypnosis Audios for only $19 per month
Unlock unrestricted access to Marisa Peer's entire library of powerful self-hypnosis audios, plus guided meditations and a bonus course! Only $19 per month. Cancel anytime.
you may also Benefit From